Byron Lutz
U.S. Telephone (Lake Worth, Florida): (561) 582-7801
Email:

[email protected]
---
Info about Mendoza & San Rafael, Argentina
Argentina makes more than one half of all the wine produced annually in South America. About 70 percent of Argentina's wine comes from Mendoza, and Mendoza produces 90 percent of the country's wine exports. Says Wine Spectator Magazine: Argentina is the "sleeping giant" of the global wine industry.
---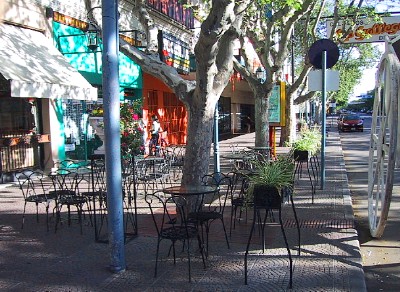 Sidewalk Cafe in San Rafael
---
About San Rafael
San Rafael is a lovely little town of about 120,000 people, and is quite charming with tree-lined streets and sidewalk cafes. There is almost a European feel to the city, like quite a few places in Argentina, a country known for its educated population and rich culture.

Lovely Daniela Teruel (pictured above) is the
daughter of Juan Teruel, who helps us manage
fincas for foreign owners in San Rafael.


---
San Rafael has a number of good hotels, banks, supermarkets, home supply centers, a national airport with flights from Buenos Aires and many shops and boutiques which offer items ranging from local crafts to fine jewelry and exquistely-crafted furniture. The area draws a good amount of tourists, mostly Argentines and Chileans, who are pulled in by the lovely atmosphere, excellent weather and the town's proximity to the Las Lenas ski resorts and the Valle Grande river and rafting area.

San Rafael at night.


---
Right now one of the great joys of San Rafael, and Argentina in general, is the affordability. Dining out is wonderful when you are paying much less than what you would pay in New York, or Miami, or London. Wages for locals are so low (the average worker makes less than US$175 a week, and farm workers often toil for US$30 a day), that you wonder where all the well-to-do come from and why businesses seem to be so busy. Yet, inexplicably, expensive new vehicles are everywhere while local business don't seem to be lacking for customers.

On Friday and Saturday night the shops in San Rafael do a brisk business and the streets are full of happy locals who fill the restaurants or enjoy coffee and ice cream at the many sidewalk cafes along the main street. It's a fun place to be, and while San Rafael is becoming more poplar with tourists, it remains something of a "best-kept secret" in many ways.

There is a lovely eclectic mix of the old and the new. In some ways traveling to San Rafael is like taking a trip back in time. It is fun to watch the parade of older cars and trucks on the road that date back to the 30s, 40s, 50s and 60s -- but it is also nice that there are dozens of Internet cafes and modern shops and boutiques where prices are affordable and the quality quite good.

STILL A SMALL TOWN

A sidewalk cafe that could easily be in
Italy, France or elsewhere in Europe.


---
You are constantly reminded that while San Rafael is a city, it is also a small town. The people are friendly and less hurried, and take time to be neighborly. It is a place where shopkeepers still sweep the sidewalks in front of their stores, and children can play outside or walk downtown by themselves at any hour with no fear of safety. The pace is pleasantly slower than Buenos Aires or the city of Mendoza (the metropolis of over 1 million with McDonalds and Walmart that lies about 150 miles to the north). I have yet to meet anyone who doesn't fall in love with the San Rafael and environs almost immediately.

Below is some general information about the District of San Rafael. I cannot claim credit for this, but lifted the information from sources I believe to be reliable. -- Byron Lutz
Information about the Region of San Rafael,
in the Province of Mendoza:
The Southern Mendoza Zone is located between 34.5° and 35° south latitude, includes the departments of San Rafael and General Alvear and extends to the foot of the principal mountain range. It is an oasis irrigated by water from the Atuel and Diamante Rivers and represents 18.22% of the vineyards in Mendoza province. The region descends from 800 meters altitude in the districts of Las Paredes and Cuadro Nacional to 450 meters in the district of Carmensa in General Alvear with a slope close to 1%. The mean yearly temperature is 15° C.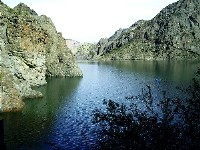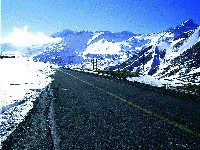 In general, this area offers excellent soils and climatic conditions for vine cultivation. The soils are alluvial, presenting a large calcareous proportion. The subsoil is frequently rocky. Under these conditions the vine grows without excessive vigor, producing moderate yields. A total of 29,440 hectares are planted and approximately 200 wineries exist.
This region is the principle producer of Chenin Blanc, which lends its characteristics to the white wines of the region. This variety supplies fruity wines with an excellent alcohol/acid relationship. The region also produces other white and red wines among which those elaborated from Chardonnay, Cabernet Sauvignon and Malbec grapes are outstanding. This region has its own appellation: San Rafael.
DISTRICT POPULATION: 168,000 inhabitants, 5.3 inhabitants/km2. (Of this figure, the city itself has approximately 116,000 inhabitants)
SIZE: 31,245 km2- 85,000 hectares cultivated.
TERRITORY: Three regions: The Andes mountain range, desert region, and cultivated plains.
WATER GEOGRAPHY: The rivers that run through are the Diamante and Atuel rivers that originate in the Andes mountains and give life to the productive oasis.
CLIMATE: Temperate with semi arid characteristics. Warm summers with little cloudiness, moderate winds and low percentage of relative atmospheric humidity, wide variation between day and evening temperatures, high quantity of hours of sunlight all determines optimal conditions for wine growing and are conditions that help give the area's wines their unique characteristics and its exceptional quality.
AVERAGE ANNUAL RAINFALL: 300 mm, an important comparative advantage for the production of fine wines.
MAP LINK: Click Here to see a map of Argentina. You will find the Province of Mendoza and the city of San Rafael immediately to the right of Santiago, Chile.
GETTING TO SAN RAFAEL:
San Rafael is located in the Province of Mendoza near the border of Chile. It is situated about 240 kilometers (150 miles) south of the city of Mendoza via a major highway. From Buenos Aires it is 1000 kilometers (600 miles).
LAND OPTIONS FROM BUENOS AIRES: Best way to get to San Rafael by land is to take one of the night buses from Buenos Aires. Three lines, which depart the Retiro Terminal in Buenos Aires nightly between 7 and 8 p.m. are TAC, Andesmar, and La Union.
Good bus lines are La Union, Chevallier and Andesmar (www.andesmar.com) which have wide seats which drop all the way back like business class in an airline. The seats are just three across, and you can sleep very comfortably. Onboard service includes a comlimentary two-course dinner with wine, American movies in English with Spanish subtitles, and light breakfast before arrival in the morning. Cost is about US$65 each way, and the bus arrives in San Rafael about 9 a.m. each morning. Reservations are often necessary during peak season, and anytime if you desire on the the executive sleeper seats which fold out into a bed.
AIR OPTIONS FROM BUENOS AIRES: Aerolineas Argentinas offers service between Buenos Aires and the San Rafael Airport (Airport Code AFA) daily except Sunday at this writing. These flights depart from the Buenos Aires city airport known as Aeroparque (Airport Code AEP), which is also called Jorge Newberry Airport. The flights DO NOT leave from Ezeiza, the international airport. There are shuttle buses on Tienda Leon which provide transportation between the two airports, and an information desk at either airport that can help you.
There are also numerous flights from Buenos Aires each day from both airports to the city of Mendoza on a number of different airlines. From the Mendoza airport you can take a taxi to the bus terminal and then take a bus to San Rafael. There are a number of buses, such as Uspallata, etc., and bus travel time is 3 hours, 15 minutes.
OTHER AIR OPTIONS: There are lots of airlines serving South America which provide connections to Mendoza via Buenos Aires or Santiago, Chile. I often fly to Mendoza from Miami via Santiago on Lan Chile or American Airlines. Sometimes the flight is cheaper than flights to Buenos Aires alone. United, Delta, American, Aerolineas Argentinas and a few others offer service to Mendoza via Buenos Aires from overseas. Once at the Mendoza airport you can rent a car (expensive) or take the bus as explained above.
---
METRIC CONVERSIONS: Here is a good site for converting
meters to feet and hectares to acres, etc.
Just type in a number and press the "tab" key:
CONVERT IT
---
Click Here to Email Us
Or call Byron Lutz in Lake Worth, Florida, USA: (561) 582-7801
---