---
100 Acres with 75 Acres in Wine Grapes

Owners Invested US$1.5 Million in
Infastructure, but Health and
Advancing Age Force a Sale:
PRICE REDUCED: $295,000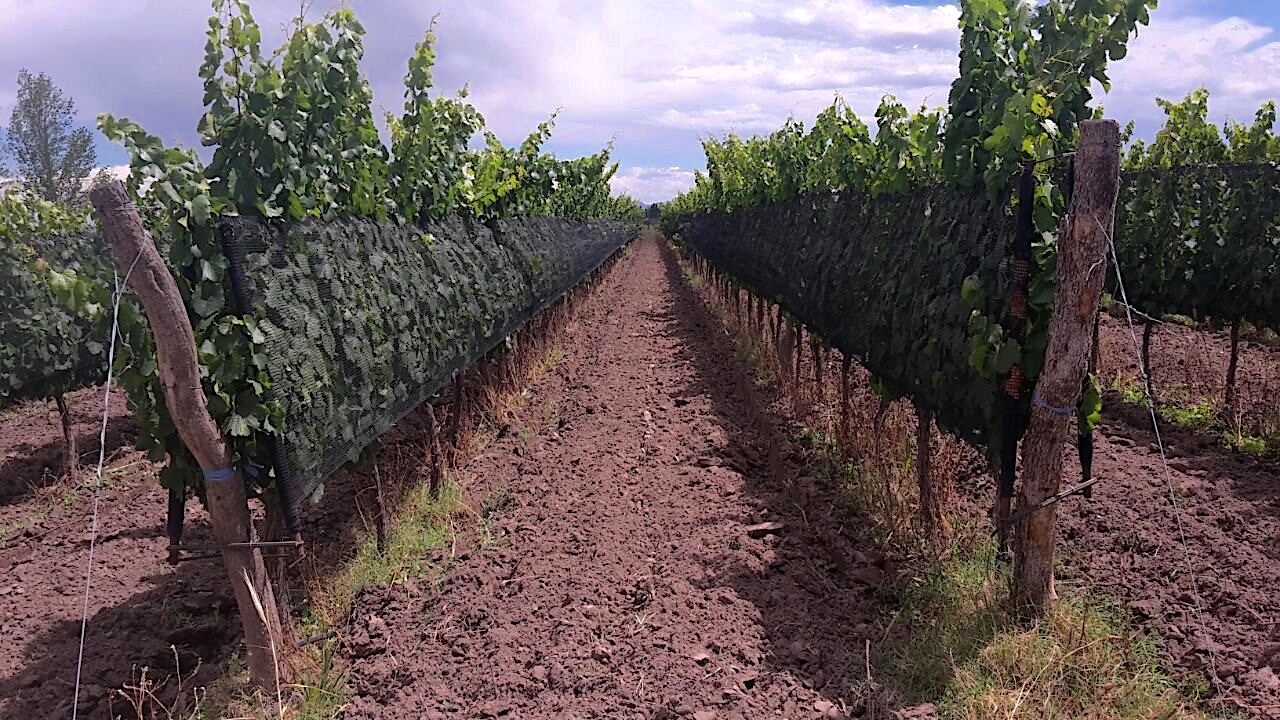 Located in ZONE ONE, San Rafael's
Premium Wine Grape-Growing Region
---
TOP-NOTCH GRAPES --
PRICE REDUCTION!
This is an ongoing vineyard business with 3
separate properties in the Las Paredes area of
San Rafael. There are a total of 100-plus acres
(40-plus hectares) with 75 acres (30 hectares)
of high quality fully-producing vines (50% in
malbec with sauvignon blanc, cabernet
sauvignon, pinot noir, cabernet franc, syrah
and some torrontes grapes).
Ten-plus acres of land is also available for
additional planting, along with about 15+ acres
containing two employee homes on separate
properties, equipment and supply barns,
out-buildings, roads, olive and fruit trees.
The property includes a 2.5-acre reservoir with
a drip irrigation system for 55 acres.
EXCELLENT QUALITY
& PRODUCTION
Production is around 230,000 to 290,000 kilos
of grapes sold each year to various wineries.
All the grape vines are under anti-hail netting.
In recent years the Bianchi Winery -- one of
the top wineries in Argentina -- has contracted
to purchase a large quantity of the harvest.
Bianchi is highly selective in grape sourcing
and typically only purchases the highest-
quality wine grapes in the region.
150 OLIVE TREES
There are also about 150 olive trees on the
properties. More than 100 of them are 8 years
old and in production, however they were hit
hard by hail four years ago and recovering.
PRICE AND DETAILS
The price includes one tractor, motorbike
and various implements and other tools, along
with all current supplies.
The owners are willing to sell after more than
10 years of building up the properties and with
more than $1,500,000 invested due to health and
advancing age of some of the parters. The
owners may be willing to sell properties
separately rather than all together.
(READ MORE DETAILS BY THE OWNERS BELOW PHOTOS)
---
VARIOUS PHOTOS:
Reservoir for Drip Irrigation: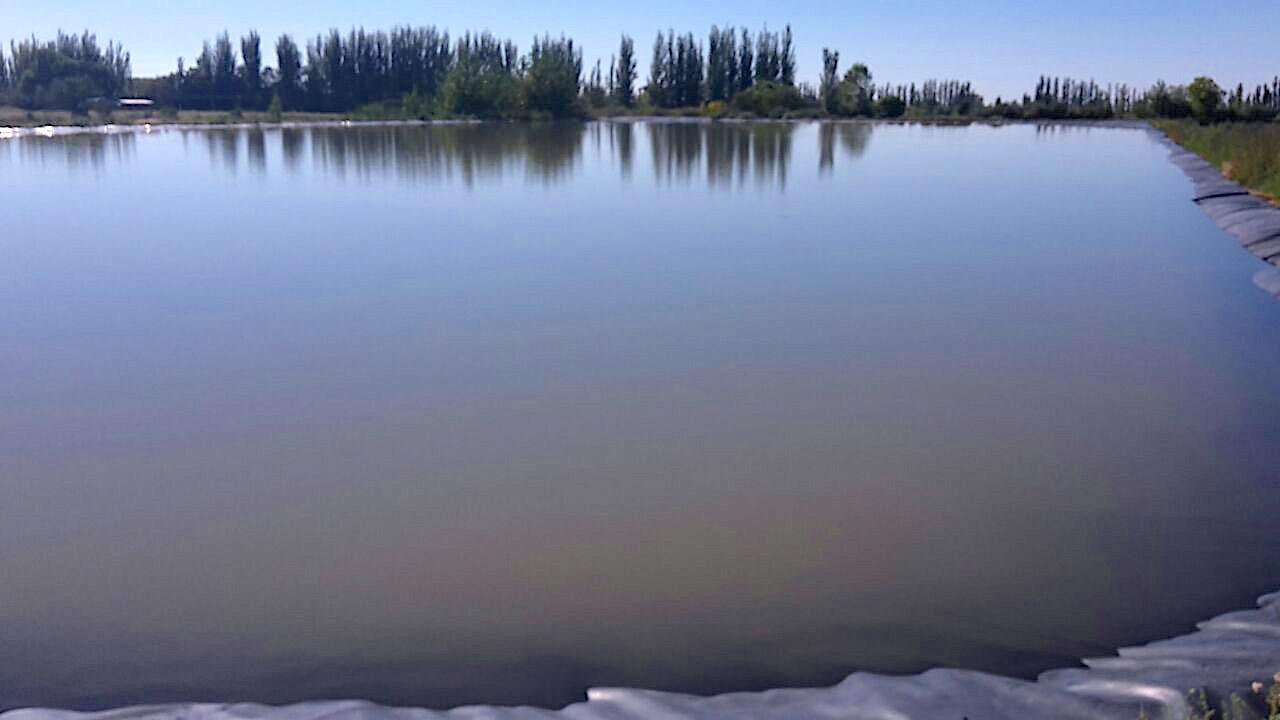 Hose & Park Area: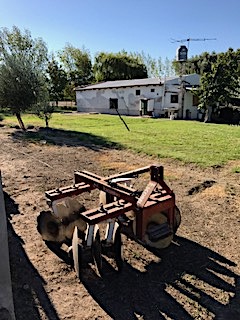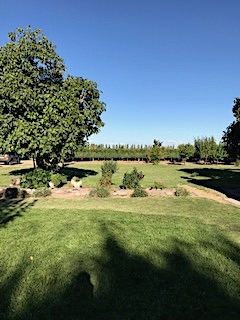 Grape Vines: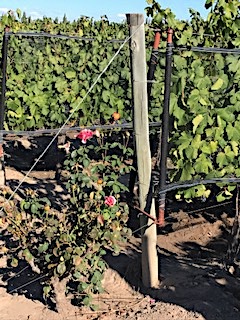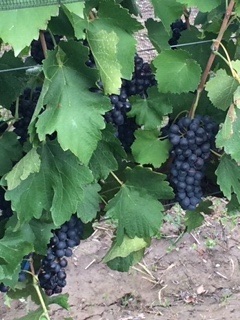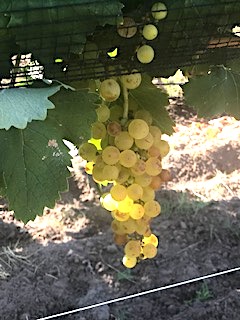 Harvest and Pruning: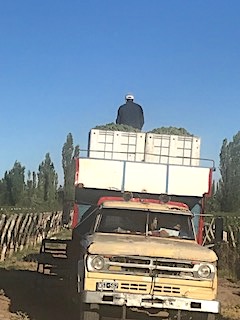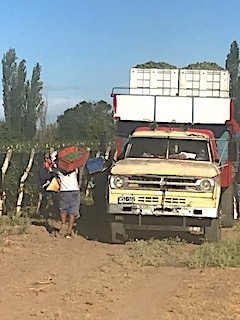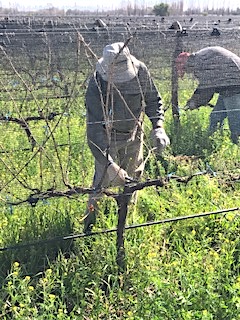 More Vines: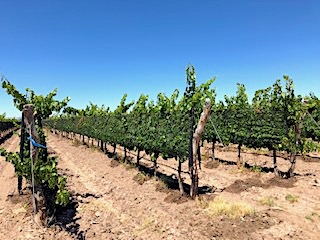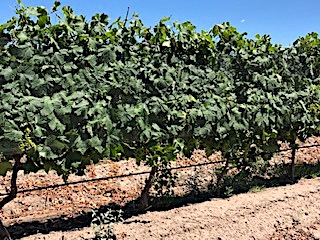 Olive Trees: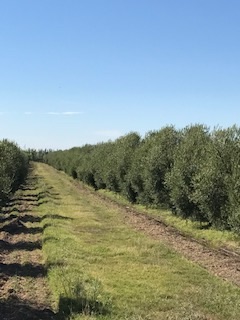 Google Map of Farm With Reservoir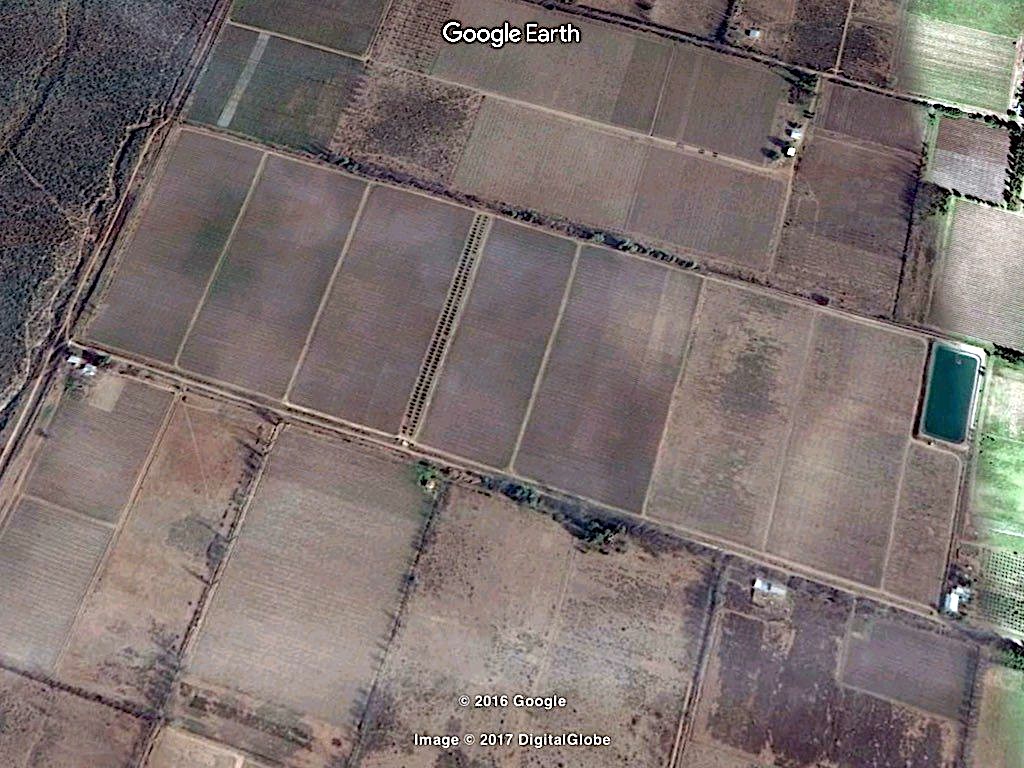 MORE DETAILS OF THE THREE FARMS
IN THE WORDS OF THE OWNERS
1. LA ANGELA --
"This is a 6 hectare (14.8 acre) parcel located on Calle Jensen in San Rafael, not far from the main road, the airport and the Bianchi winery (Google map coordinates -34.602871, -68.414740). It is located across the street from the Mumm vineyards in a very nice area of vineyards and houses.
"La Angela has about half the property in Syrah grapes and half in Malbec. These vines were originally planted by a Mumm executive as his personal vineyard. We have owned it for 11 years. The vines are 18 years old and of high quality. The property is flood-irrigated from a canal that runs along the front on the property on Calle Jensen. We have improved the irrigation system over the years. The property has dedicated canal water rights sufficient for the 6 hectares of grapes.
"The remainder of the land has an employee house and storage area in one single level building, with a separate garage and water tower, as well as a bread oven and miscellaneous items. This area has a variety of fruit and nut trees which are harvested each year, as well as a garden area for vegetables. The entire property is fenced and very well maintained.
"Each year we sell the high quality Malbec grapes from this property with no difficulty, mostly to the Bianchi winery. The Syrah is somewhat out of favor right now and mostly used as a blend so when we cannot sell the grapes, we often make it into juice at the Giaroli winery and sell the juice to wineries at market price later in the year."
2. LA PACA --
"This is a 30 hectare property (74.13 acres) that was originally pasture land which we have developed and planted over the last 12 years. The property is located in the Las Paredes area which is on the north part of town about 20 minutes from the town center. (Google map coordinates -34.535589, -68.378554) As you can see, it is in an area with quite a few vineyards and orchards, although the Google map seems quite old.
"Over the years we have planted a variety of grapes with about 50% Malbec and lesser plantings of Pinot Noir, Sauvignon Blanc, Cabernet Sauvignon, Cabernet Franc and Torrontes. The oldest plants are 12 years old (Malbec) and the youngest (6 years old) are Torrontes and Cabernet Franc. All vines are fully producing. Out of the 30 hectares, about 75% is vineyard, with the rest being interior roads, reservoir, and olive trees.
"We added a 1 hectare reservoir and a drip system to this property. There are two functioning Italian pumps for this system housed in a separate building next to the reservoir, and a dedicated electric line to the pumps. We added a ditch from the canal to the reservoir which holds about a 2 week water supply. The property has dedicated canal water rights for the entire 30 hectares.
"The property also has around 80 producing olives tree that are about 12 years old, with another 50 or so planted about 3 years ago but a long way from production.
"The grapes on this property are considered of good quality, although not as good as La Angela grapes. We have no problem selling most of the grapes each year, mostly to Bianchi and Mumm, although we do have to make some grapes into juice at the Giaroli winery on occasion depending on the needs of the wineries. We have no problem selling the juice every year."
3. LA ESQUINA --
"This is a 5 hectares property (12.3 acres) located only one property to the east of La Paca. (Google map coordinates -34.529392, -68.375445) This property has about 4 hectares of leveled, but unplanted land and the rest is covered by a large building and parking. This large one floor building contains an employee apartment, a garage for tractors, a company office, as well as various storage rooms for tools and supplies for use on La Paca."
OTHER ITEMS --
"In addition to the 3 properties, we have one used tractor, a motor scooter, and a variety of tools and supplies which would be included in the sale. Depending on the time of the year, we also have wine in tanks at Giaroli which we could be included in the sale if not sold before. Our manager and our 3 full time employees would be willing to stay on for anyone who wishes to buy the properties."
HARVEST 2021 & 2022 --
Malbec - 99,808 kg (2021) - 106,632 kg (2022)
Pinot Noir - 27,460 kg (2021) - 38,720 kg (2022)
Sauv Blanc - 42,880 kg (2021) - 56,004 kg (2022)
Cab. Sauv. - 3,670 kg (2021) - 2,970 kg (2022)
Cab. Franc - 15,871 kg (2021) - 26,700 kg (2022)
Torrentes - 30,005 kg (2021) - 35,020 kg (2022)
Syrah - 23,740 kg (2021) - 24,040 kg (2022)

Harvest Totals by Year
2018: 288,714 Kilos
2019: 231,085 Kilos
2020: 290,086 kilos
2021: 243,164 kilos