(This Property Has Sold)
Argentine Dream: Fine Wine Vineyard, Peaches,
Plums & More at an Affordable US$48,000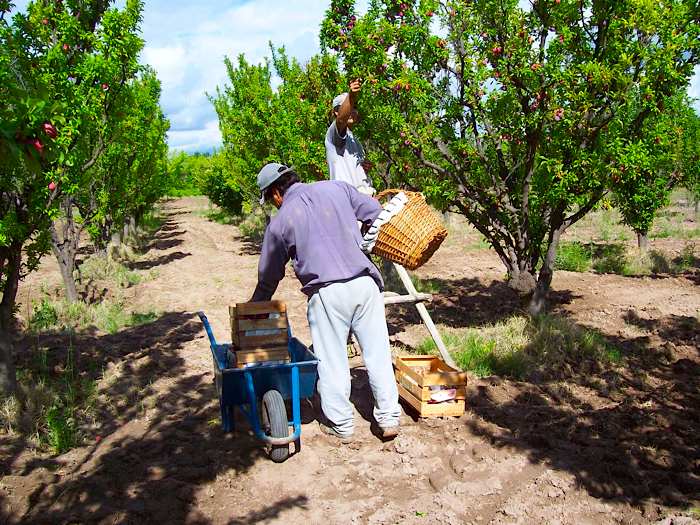 13-Plus Acres of Diversified Grape and Orchard Production:
Cabernet & Merlot Grapes, Olives, Apricots, Peaches, Plums & Quince
Located 15 minutes from San Rafael, Mendoza
---
WONDERFUL OPPORTUNITY
Rarely is there such a lovely diversified farm with fine wine grapes at this price in San Rafael. Located just 15 minutes from town (9 miles), this farm is handy to local merchants, is about 1-1/2 mile from public schools and a health clinic. It is situated 5 miles from Salto de Las Rosas, where they hold the annual rodeo and there are gasoline stations, pharmacies, supermarkets, hardware stores, etc.
Other advantages to this farm is that there is city water along the road, electric service (with 3 phase available), street lighting and it's located on a dead-end road with no through traffic. The current owner lives next door, has no plans to move, and touts the area as quite, safe and secure. They neighbors are "like gold" he says, friendly and helpful and always willing to lend a hand.
LOTS OF WATER!
This farm is served by a tremendous flow of irrigation water, with water rights attached to the deed. It uniquely benefits from being the last farm on that irrigation canal, so the result is many extra hours of water that can be used before those waters run back into the river. This is a bonus that most farms cannot count on, and adds value to this property.
I've seen the canals serving this property practically over-flowing with water, and can attest to the incredible volume of H2O enjoyed there.
The grapes are cabernet sauvignon, merlot and bonarda, just now in full production, with the vines ranging in age from five to eight years. The orchard and olive trees are mature trees, also in full production, with many good years of future harvests ahead of them. The hard work on this property has been completed.
A FINAL NOTE
Keep in mind that this is a hobby farm. You can live self-sufficient here, but the income is going to be supplementary income -- probably not enough to support you solely from fruit sales unless you were very creative. In other words, most folks are going to need additional income from another source.
As far as peace and quiet, the area is wonderful, and a great place to build a home or get your foot in the door with a boutique fine wine vineyard.
The owner will also be willing to offer some owner financing.
PRODUCTION INCLUDES:
-- 2.8 acres of fine wine grapes
(Cabernet Sauvignon, Merlot and Bonarda)
-- 3.2 acres of plums
-- 1 acre of peaches
-- 1 acre of apricots
-- 1/2 acre of olive trees
-- A long row of quince trees (see harvest photo below)
-- About 1/3 of the property remains unplanted, leaving room for a
custom-built house, barn or more agriculture such as
annual vegetables, vineyard or orchard.
---
PHOTOS:
Grape Harvest: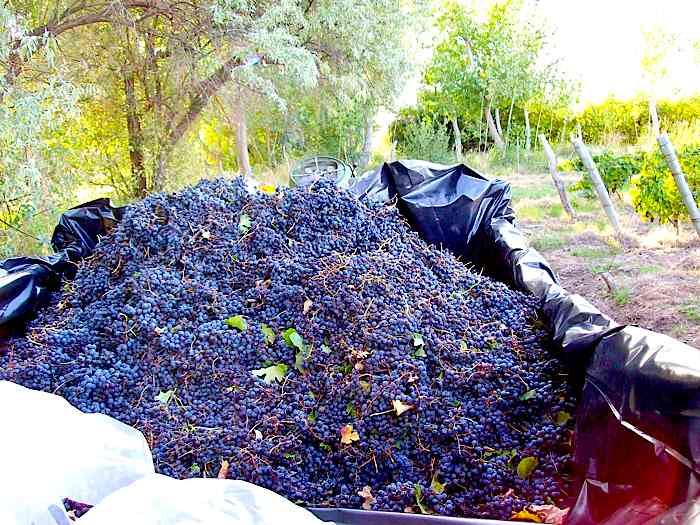 Peach Harvest & Crates: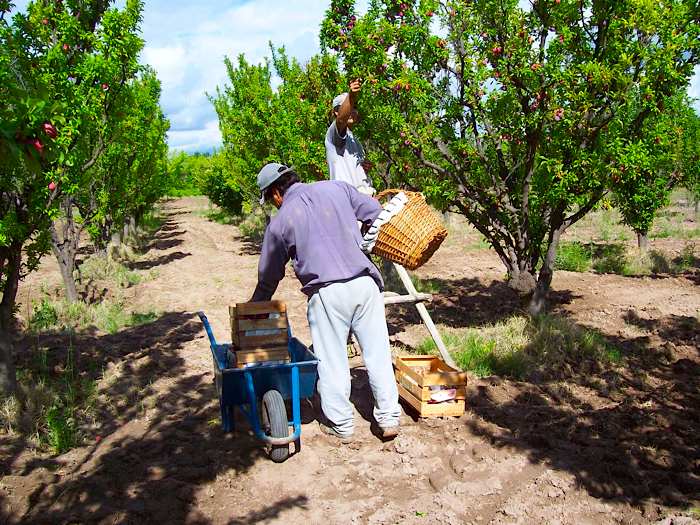 Quince Harvest: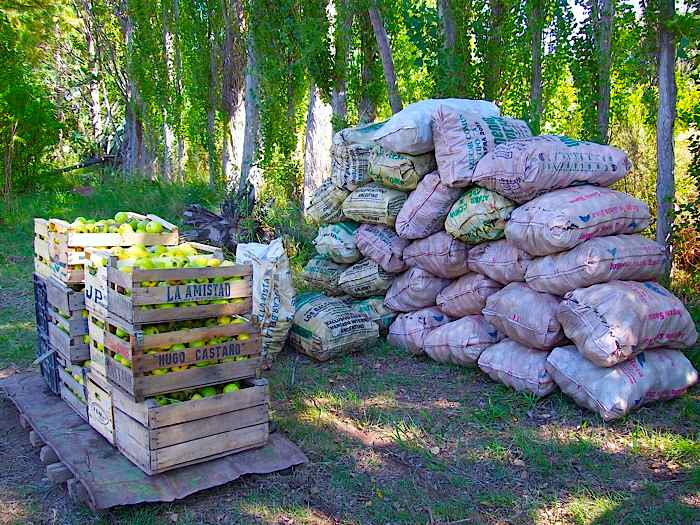 Various Farm Views: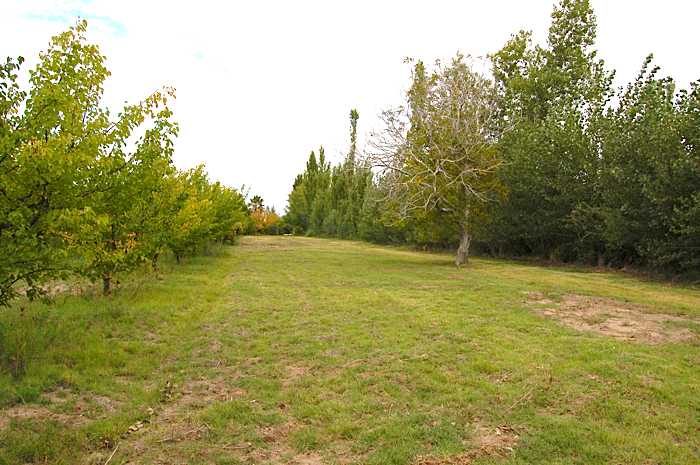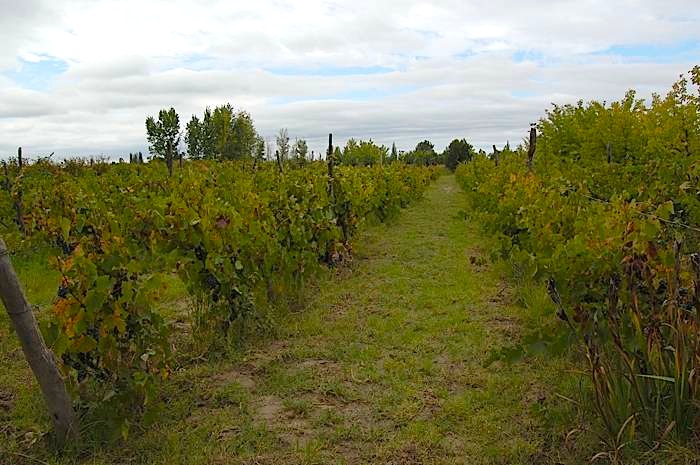 Property Survey: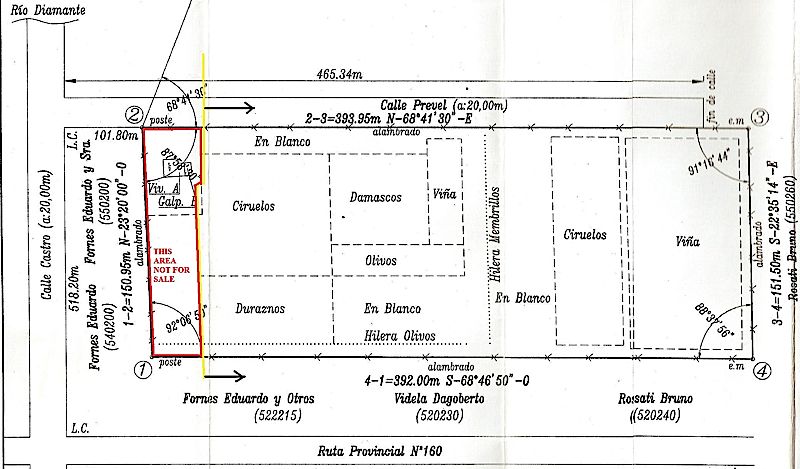 IMPORTANT NOTE: The photo below, which appears on the entrance link
from the home page is a photo of bonarda grapes from a nearby farm which
I took earlier -- the same style of vineyard and about the same age.
They are NOT from this particular farm, but represent what this farm's grapes
are going to look like come February. The owner took the photos on this listing
during harvest and did not take them with the idea that they would be posted on
this site for a possible sale, so he didn't snap anything I could use to demonstrate
the write-up. ALL photos on every listing here are actual photos from the farm being
sold, but this is one instance when I substituted a photo from another farm to
illustrate the listing.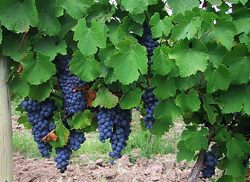 The grapes on this farm are primarily cabernet sauvignon and merlot. Only about 15%
are the bonarda variety. Bonarda is an Italian grape and is a Class B fine wine grape
here in Argentina. It's becoming more popular as its own varietal wine, but is also valued
for its sturdiness and high production capabilities. Bonarda has exceptional color, and
many wineries will use it as a blend with other fine wine grapes like malbec, syrah, etc.,
to boost the color and fruitiness of the wine.