Priced at 1/2 Value!!
138 Acres with Wine Grapes & Plums,
Plus Drying Facility, Tractor
& Worker's House: US$335,000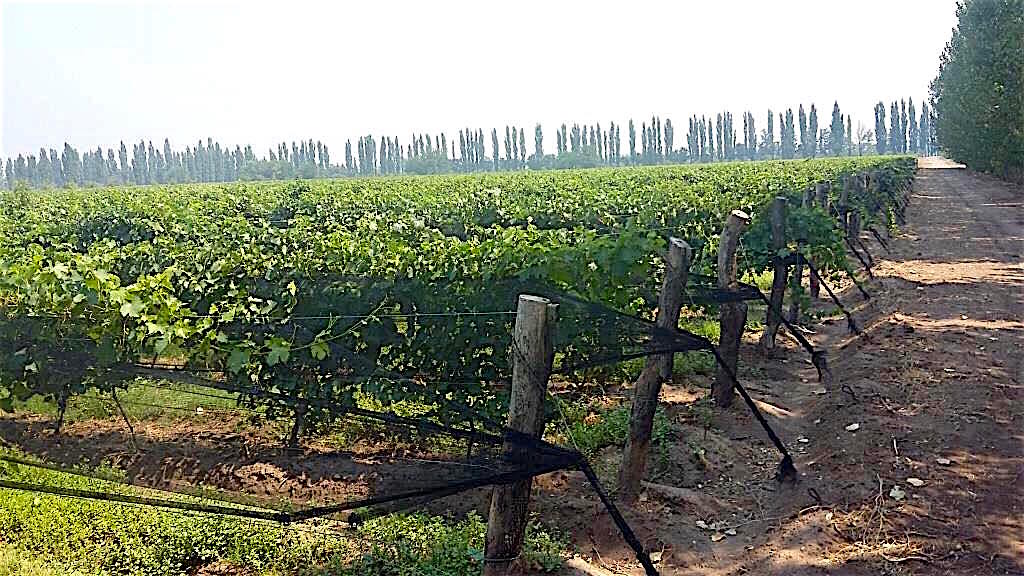 NO LONGER AVAILABLE:
THIS PROPERTY HAS SOLD
Located 20 miles from San Rafael, Mendoza
---
FARM IN PRODUCTION
This 56 hectare farm is located in Goudge, about 28 kilometers
(16 miles) from the city of San Rafael. It has full water rights
and a total of 23.75 (58.5 acres) planted. There is a worker house
in good shape that is 100 sq. meters (1070 sq. feet) and a brick
barn in good condition that is 150 sq. meters (1600 sq feet). In
addition to water rights it has two irrigation wells, one working and
the other needing a well motor. The property has 3-phase electric.
The entire property is fenced.
Fruit production includes grapes and plums. There are 10.5 hectares
(26 acres) of plums which are nine years old (mean they are now in full
production. There is another 13.25 hectares (32.7 acres) planted in Malbec
and Bonarda fine wine grapes. Six hectares (14.8 acres) of the grapes are
under netting. The varieties were planted in 2013 and 2016.
There is also a large drying area with racks for drying the plums,
which command a higher price when sold dried.
The sale includes a tractor with implements.
Price is US $335,000 which includes buyer and seller commission, most closing
costs and cost of the new survey required by law. The owner is selling because
he has health problems, and values the farm at a figure of US $790,000. This is
truly a rare opportunity.
There are not many farms planted with the amenities mentioned at the price the 58 acres on site would exceed US $300,000 if the land were fallow, and
then you would have years of maintenance before the first harvest.
---
PHOTOS: