74-Acre Farm with 70 Acres
in Vineyard -- Includes 2 Houses, 2
Tractors and 2 Barns: US$200,000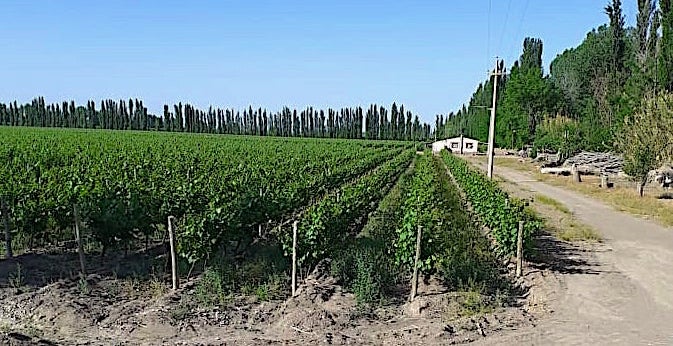 Located just east of San Rafael, Mendoza
---
DESCRIPTION
This farm consists of 30 hectares (74 acres) in
three deeded parcels in Algarrobal, located
about 20 minutes from San Rafael.

Approximate vineyard totals are as follows:
* Bonarda red wine grapes (8-years) - 37 acres
* Bonarda red wine grapes (3-years) - 13 acres
* Torrontes white grapes (4-years) - 20 acres

Harvest totals in 2021 were 350,000 kilos of
grapes. The farm has two workers. The owner
says one of them is extremely talented and
and has been with the farm for 20 years.
The entire property is fenced, there are two
houses with electric and municiple water.
One is a house for workers, and the othr is an
owner home with an outdoor barbeque and park
area. There are also 2 barns with metal roofs,
concrete floors and metal doors.
INCLUDES TRACTOR & IMPLEMENTS
WORTH THOUSANDS
The two tractors included with the sale are a
Universal tractor (year 2000) in very good
condition and a Fiat 400 vineyard tractor (1974)
in good condition. Implements include a 2000
model Puenche sprayer with 1,000 liter capacity.
Implements also include a new harrow disc with
16 discs operated by remote control, an
hydraulic harrow disc with 14 discs, a vineyard
plow with 6 blades, a trencher, a 5-tooth
chisel plow and a trailer with four wheels.
There are many assorted hand tools, 3 back-
pack sprayers, a weed-eater, saws, etc.
The farm has sufficient water rights for the
total area planted.
The farm is a member of the Goudge Wine Co-Op
for elaboration and sale of the wine from this
farm. That membership will be transferred to
the new owner.
---
PHOTOS: